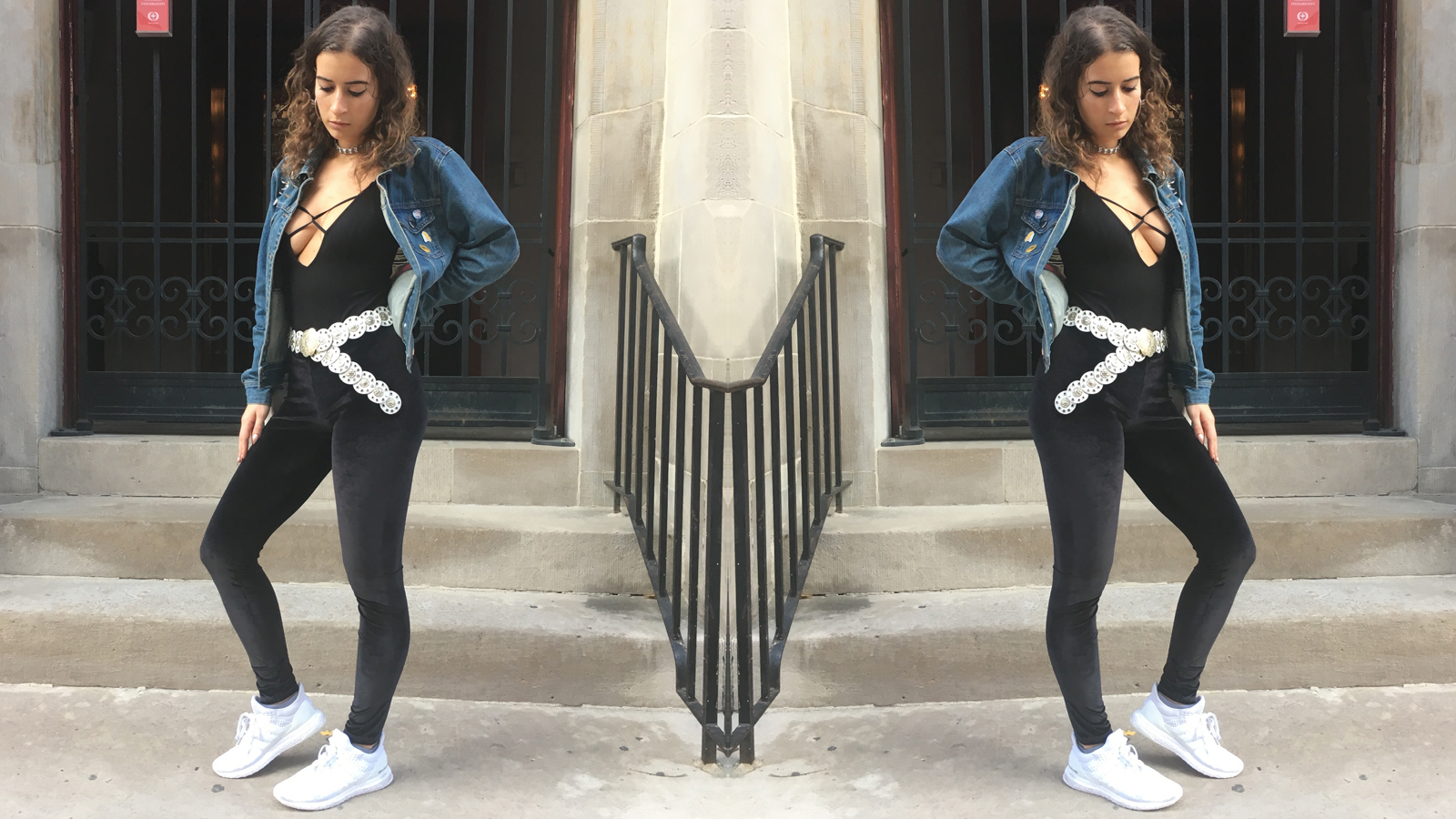 For a couple days there, it was almost perfect fall weather, and I took full advantage of it.
Summer may be the "fun" season, but fall is when you can layer and look your cutest.
Last weekend when I was in Philly I wanted to wear something super comfortable for walking around the city, but I also wanted to look hot (I mean, who doesn't?). This interesting combo of stuff came together.
My roomie just recently gave me these amazing velvet leggings from HUE and this super glam choker from Bauble Bar. The leggings are amazingly comfy, but also elevate leggings to a slightly more luxe look which I love. The choker does the same, and is a definite upgrade from my usual black beaded chokers.
The sneakers were also a gift from a friend (my birthday was this month!) and they are my new favorite shoes. It's crazy because I would probably never buy them on my own, but they seem to match with everything and are amazingly comfortable. I guess it goes to show that sometimes buying basic, low-key stuff serves you well.
I spent most of the day walking around after having brunch at Schlesinger's Deli. I won't go into details about my meal, because personally I didn't think anything was super note-worthy (although they did have a complimentary pickle bar, which was fun) except for the dessert.
Blame it on my sweet tooth, but their "stuffed cookie," which was essentially two chocolate chip cookies with chocolate cream in between, was fucking amazing. They also had an oatmeal version, and a sprinkle cookie that was the size of my head, but I definitely don't regret going for the classic chocolate chip.
The cookies were the perfect texture, the cream was so sweet but not too sweet, and I was a happy girl. My boyfriend and I took turns taking bites and passed the cookie across the table as if it was a bottle of rum or something. I may or may not have taken two bites on my turn occasionally…
Choker: Bauble Bar (similar here)
Jacket: Forever 21 (pins vintage)
Bodysuit: Nasty Gal
Bag: Vintage Chanel
Belt: Vintage
Leggings: Hue
Sneakers: Adidas Ultra Boost