The good thing about eating out at the beach is that you generally don't have to worry about being underdressed. The bad news is that it can be tough to find a more gourmet experience among all the crab shacks and pizza places. Luckily, Bethany has a few gems a couple blocks north of the Boardwalk. Sedona is one of those spots. It's a creative American tapas place that does a "deal" on Tuesdays in the summer ("Tapas Tuesdays") where you can get three tapas for $26.
Personally, I don't think the $26 deal is that great when you do the math. Certain small plates (read: the pricier ones) are excluded from the Tuesday special, which means at most you're saving only about $6. I'm not one to scoff at saving a couple bucks, but you shouldn't order three tapas just because it's "on sale." Either way, Tapas Tuesdays are a fun excuse to go eat some small plates if nothing else.
All of the tapas were pretty good, although nothing that really "wowed" me. The Short Rib Ravioli was my favorite, and the only exception to the "pretty good" statement was the Crab Guacamole (not pictured, people ate it before I snapped a pic, sorry). There was hardly any crab in the guac, and the crab that was in there didn't have much flavor.
The portion sizes of the plates were obviously small, and would've been perfect for a couple or maybe three guests. For me and my seven relatives I wished the plates were larger or that we knew to order two of certain dishes like the Seared Rare Tuna, which only came with two wontons.
Our Server was nice and understanding of my older family members who aren't exactly the most clear when ordering, which was a nice plus. In terms of the atmosphere, Sedona regularly changes the paintings on the walls (which are for sale), which is cool. Personally I love eating outside, especially at the beach, and would prefer that to Sedona's slightly stuffier interior, which is why I'd choose 14 Global – another tapas restaurant on the same block with outside seating – over Sedona most days.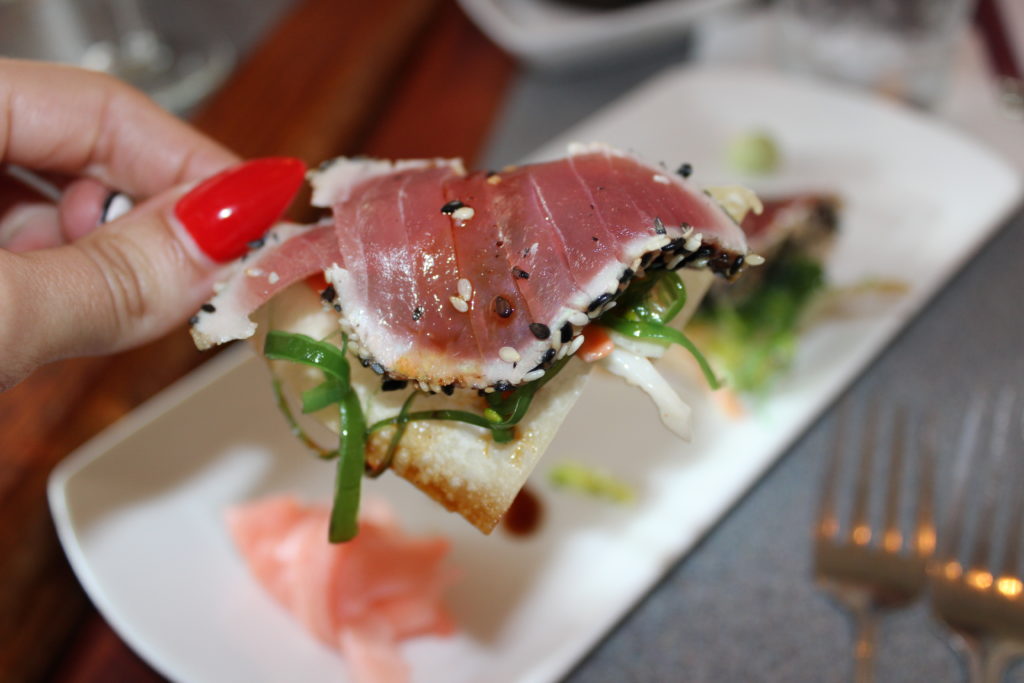 If you're not looking for stereotypical beach food, I'd definitely check out Sedona. If you're still hungry after their smaller tapas, you can always take the five minute walk to the boardwalk and get a giant custard in a waffle cone from Kohr Brothers like I did.