In 99% of hats, I look like an idiot.
First off, my head it weirdly tiny, so most hats are too big on me – or just don't fit right. Second, my hair's wavy texture just poofs straight out of hats which makes me look somewhat like a clown. I wear beanies in the dead of winter when I need to, but that's it.
Until somebody put a beret on me.
You see, before this past summer, I don't think I'd ever tried on a beret before. I never was one of those girls who fetishized everything about Paris and made their moms buy them canopy beds and shirts from Limited Too with the Eiffel Tower on it. My favorite part about Paris is the food, and that's pretty much it. I also never had an urgent need to look like a mime, so a beret was never a must-have in my wardrobe.
But this summer when I was getting styled by @digital.bitch for Papertrail Mag, she put a beret on my head as a final touch to one of our looks – and I weirdly loved it. I had a feeling I only loved it because it went so well with everything else I was wearing and really made the outfit "pop" for the shoot, so I refrained myself from purchasing one because it seemed like the type of thing I'd never wear IRL.
Alas, now that I did purchase one from Dolls Kill a few weeks ago, I can say I've only worn it once IRL. The problem with hats is that I feel like it's still rude to wear them in a restaurant, etc. Personally, I don't really want to wear one if I have to take it off at any point, then my hair is going to be all flat and my outfit is going to be incomplete.
Okay, sorry for rambling, here are my actual tips for how to wear a beret without looking like one of those girls who masturbates to Mary Kate and Ashley's "Passport to Paris," as well as some pics of me in my beret that I'll hopefully wear again soon!
1. Pass on the Millennial Pink
Something about a baby pink beret makes me feel like a corny doodle of an Eiffel Tower and poodle aren't too far away.
2. No Stripes For the Love of God
If you don't want to get mistaken for a corny French stereotype or a mime, skip a striped top for obvious reasons. I'm sure some chic Instagram fashion blogger can pull this look off, but us mere mortals probably can't.
3. Be Thotty
Alright honestly, this is always my tip for any outfit, but here's my rationale for this one: When little girls/teens think of dressing like a stylish Parisian, they think of being conservative chic. You know, pencil skirts, boob-swallowing tops with ruffled collars, kitten heels (don't get me started on kitten heels), etc. So, if you're not trying to look like a girl who's going to Paris for the first time and trying to impress the fashion gawds, pull a titty out or something. Works every time.
4. Get a Beret with some Edge
Basic black goes with everything – but considering you probably wear all-black half the time anyways, you should be fine with a beret that adds a pop of color, or a pattern. I've listed a few berets that don't look like anything Madeline would wear at the bottom of this post!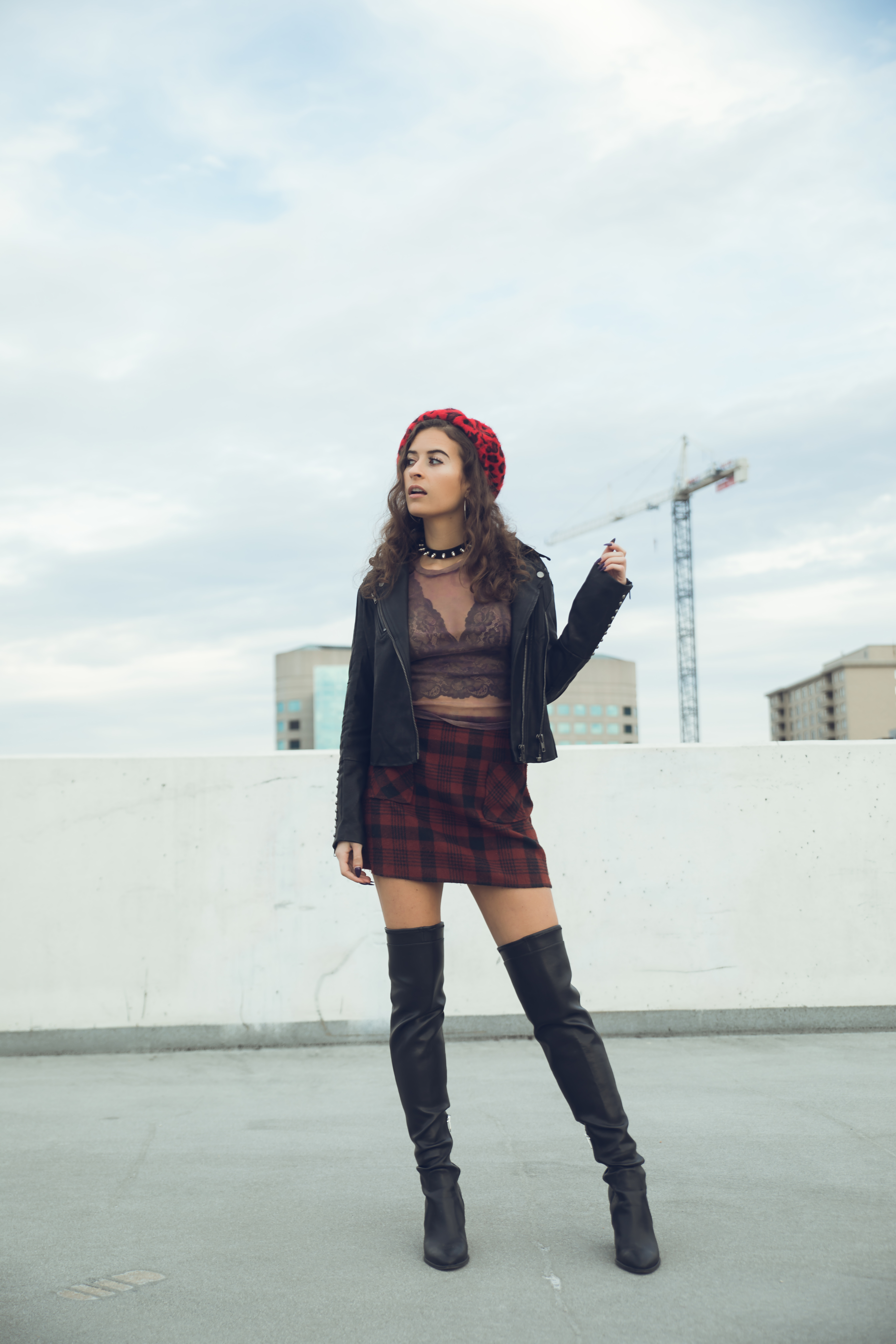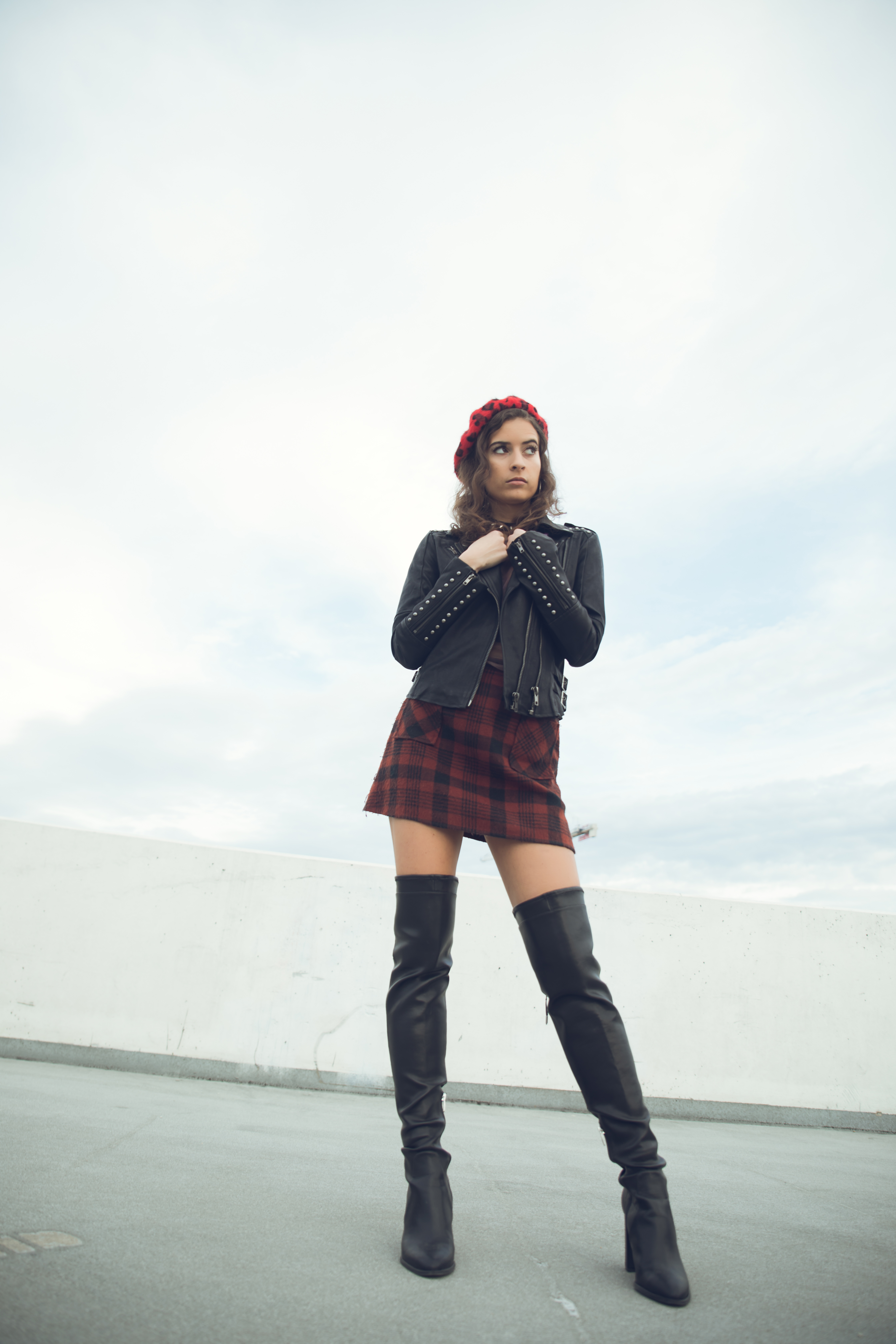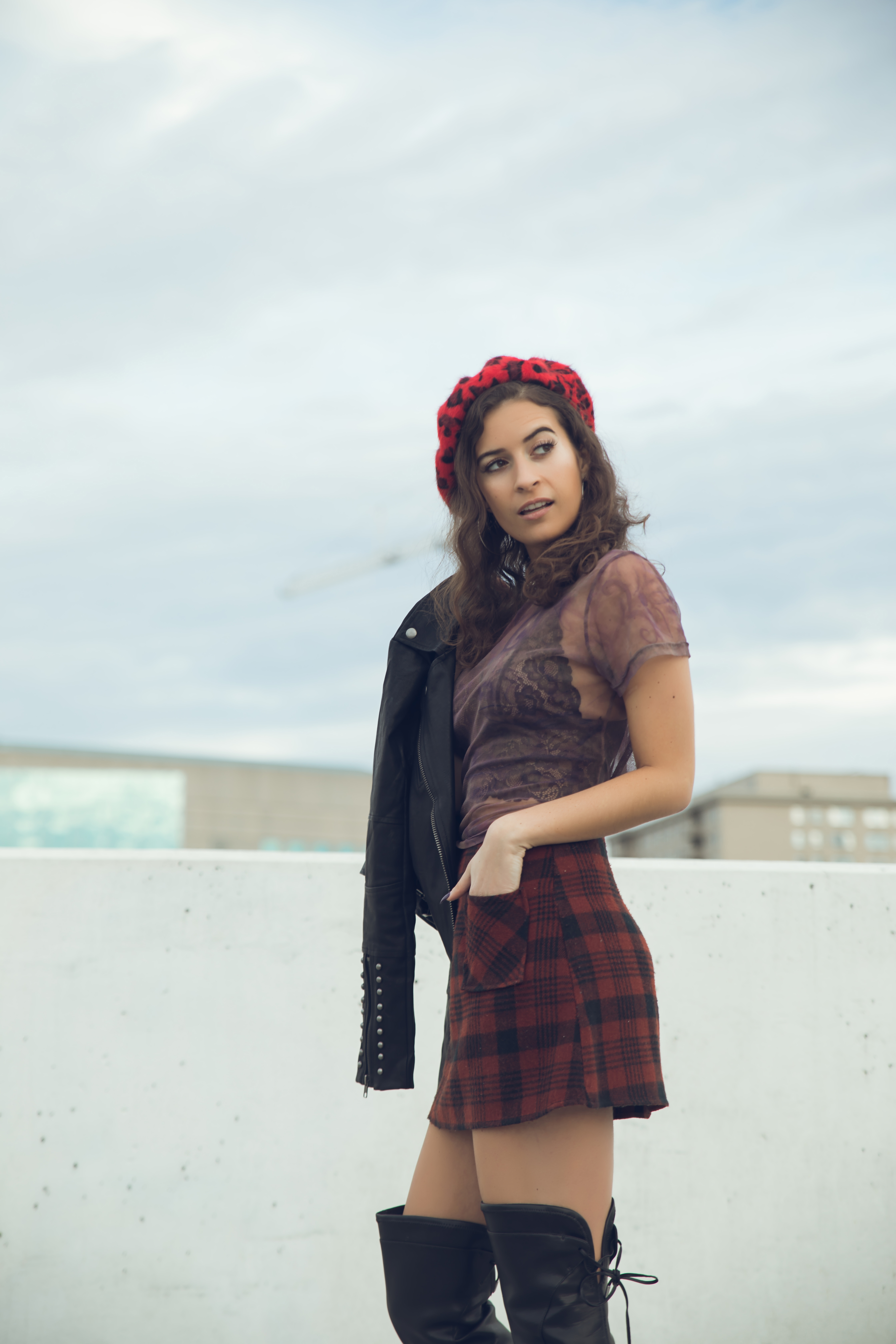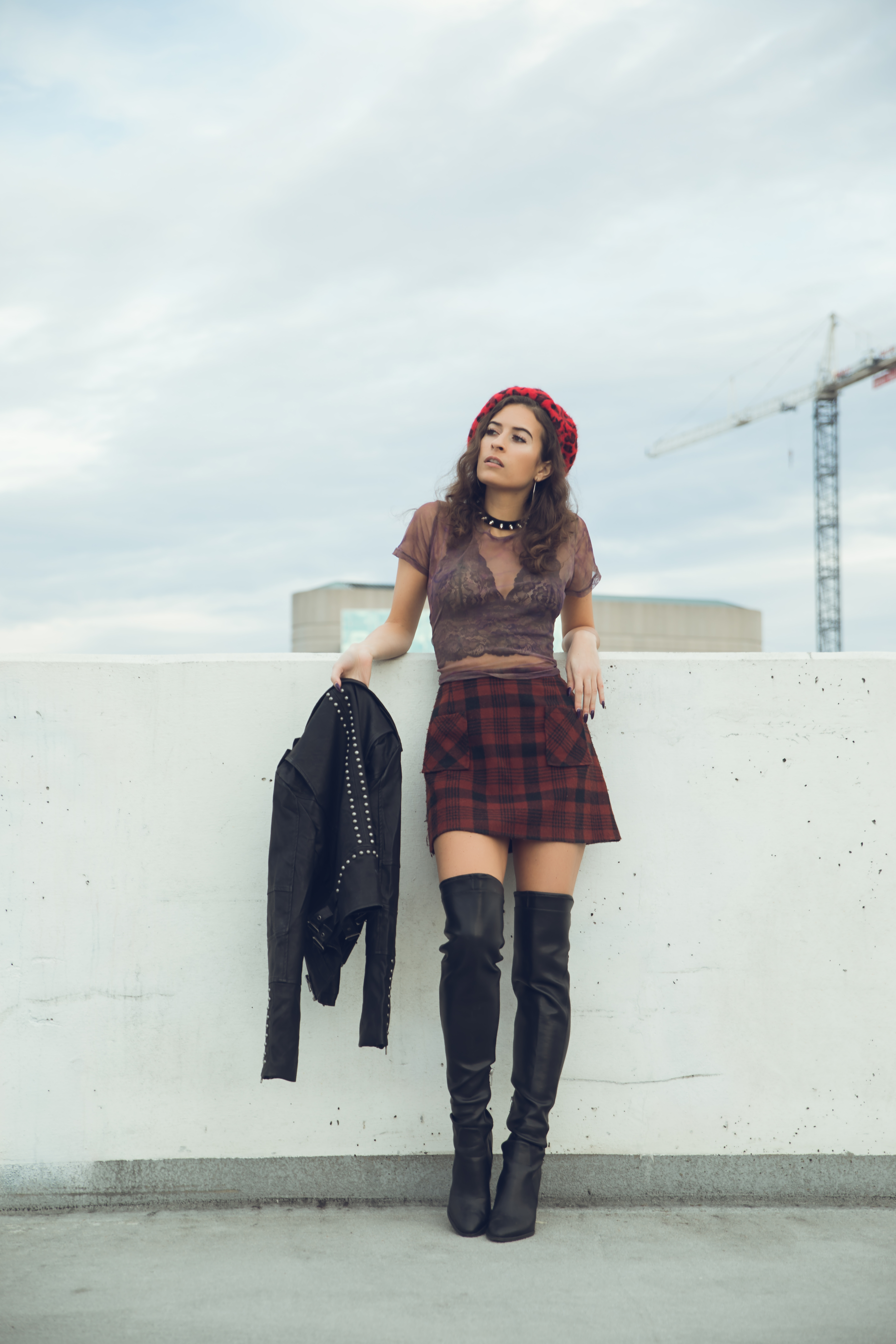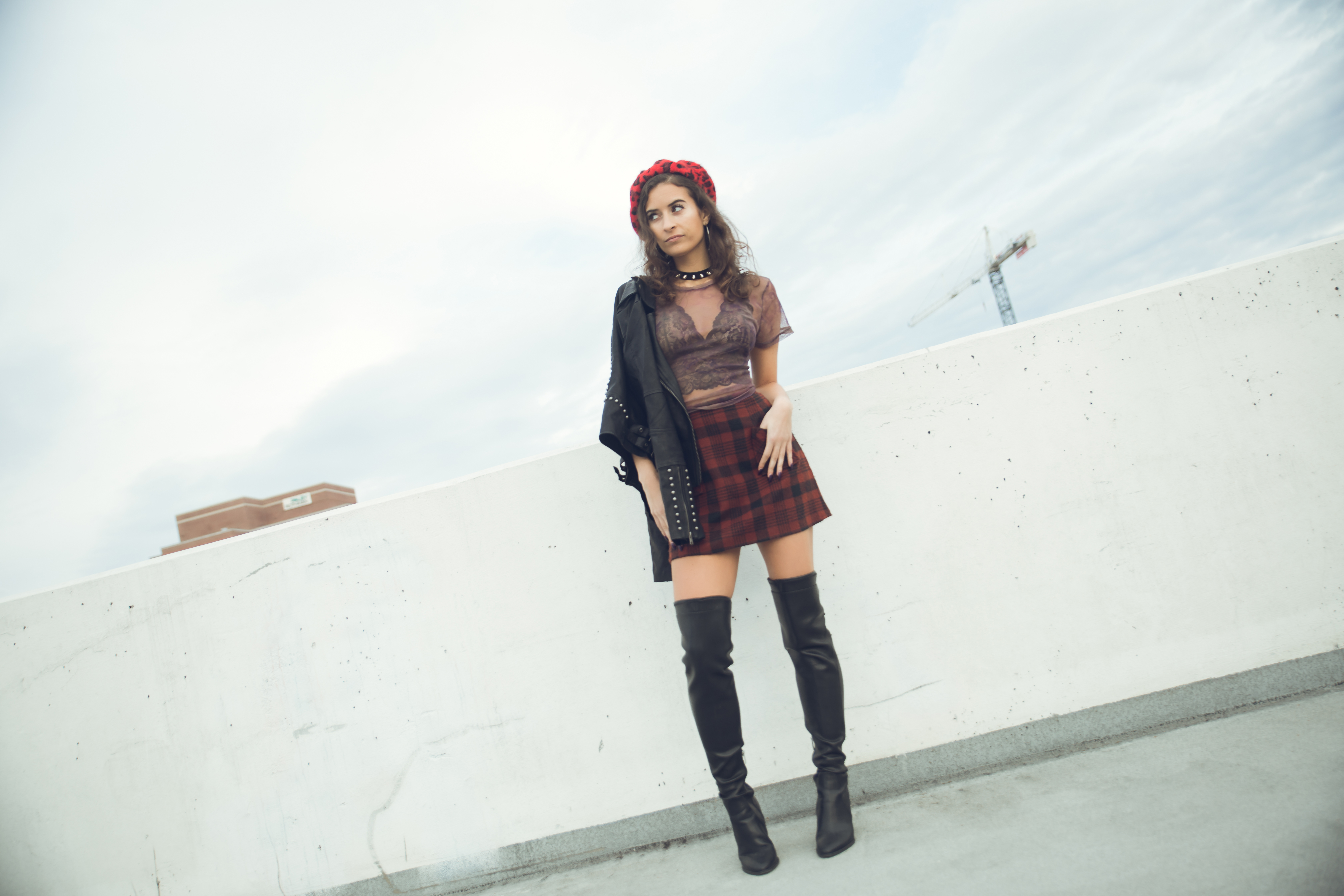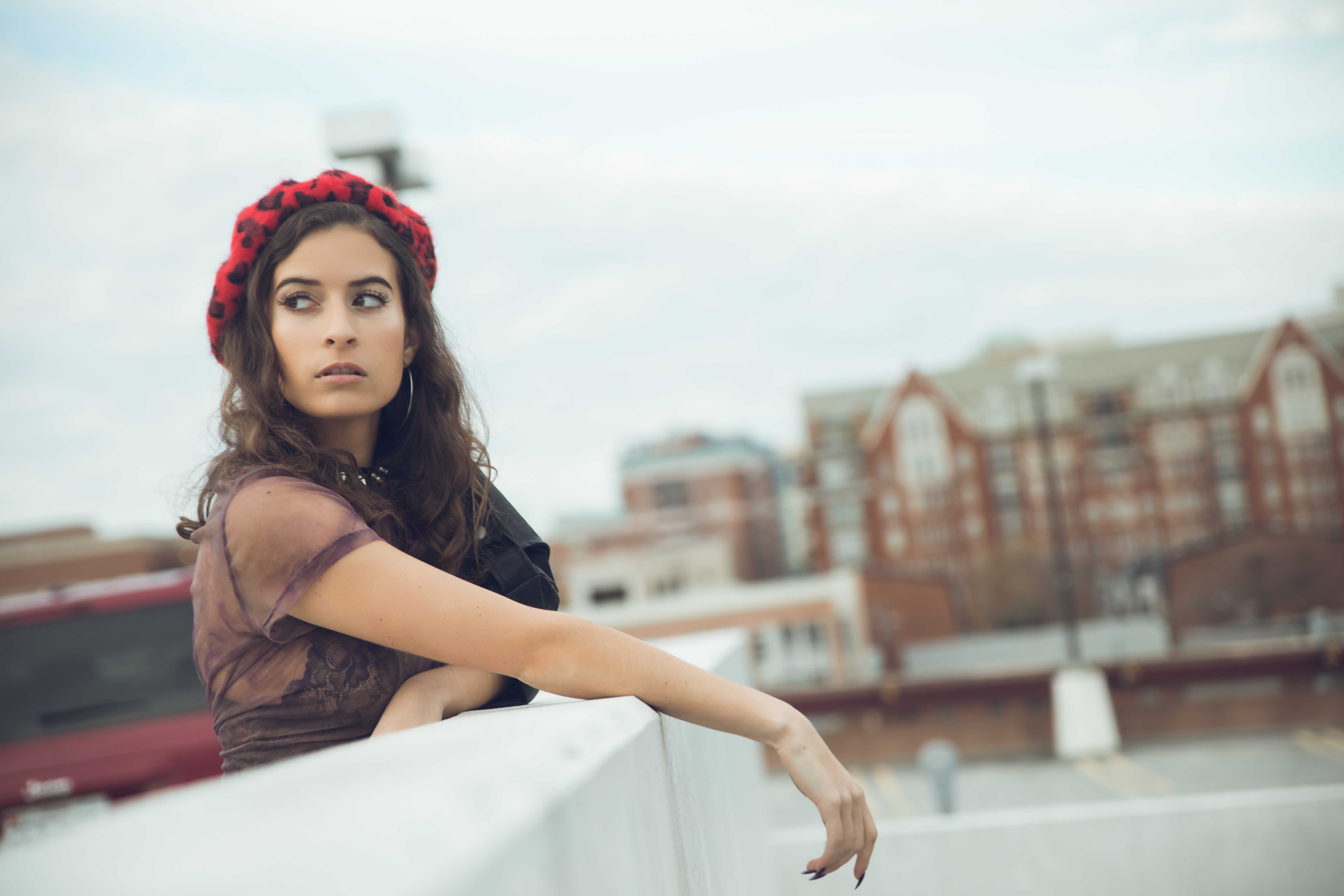 My mesh tee is a hand-me-down from my great aunt, and the skirt is a hand-me-down from my mom. The bralette is by Fleur't (you can buy it here) and the boots are Marc Fisher. Choker is from a sex shop in Philly – pretty sure you can get one at any local sex shop! Jacket was a gift from my boyfriend for my birthday – he picked it out himself <3
Here's a link to the hat in brown, the red is sold out! Here are some other cute berets that are definitely not basic.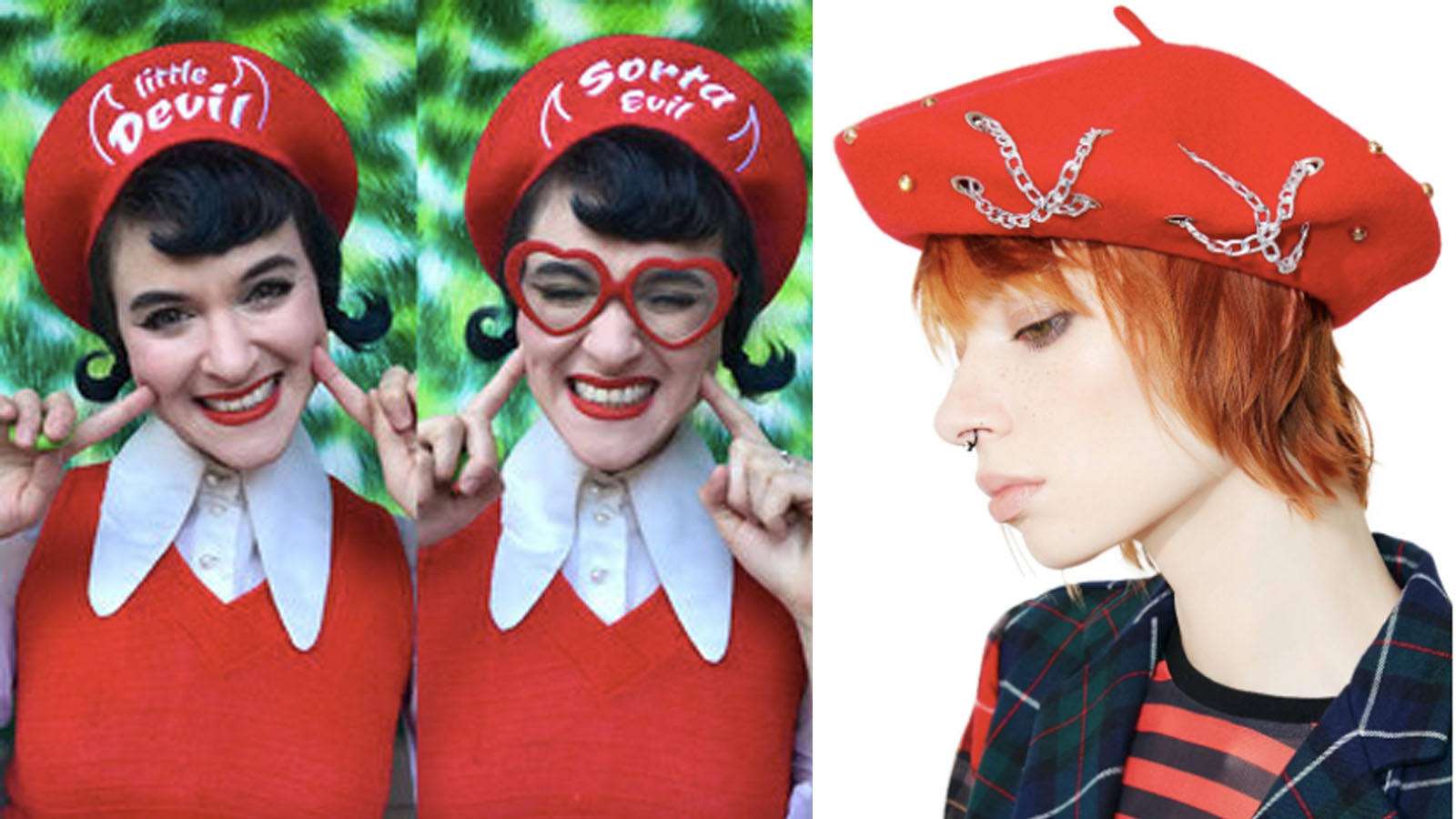 Lil Devil Beret, $55, Sunshine By Hester. Chain Stud Beret, $20, Dolls Kill
Photos by Marcus Dilano Photography