Do you guys know why athleisure became so trendy?
Some experts hypothesized that it was due to the recession (sorry, couldn't find the link online, I believe I read it in a book) and everyone feeling like shit because they were poor. It's hard to put on your fancy pants when you're low-key bummed about your debt, so yoga pants were much simpler.
Athleisure never went "out" of style, but I feel like people have been taking new liberties when it comes to pieces usually reserved for the gym. Brands like Nike, Adidas, etc. are suddenly fashion-forward for the club instead of just for running errands, and celebs like Kim Kardashian and Kylie Jenner are legit wearing sweatpants with thotty tops and lacy bras and calling it an outfit.
Well, I'm glad that it's socially acceptable for me to throw on a giant sweatshirt and call it an outfit, because I've really felt like shit lately.
I know bloggers are supposed to be all like, "hey, look at this fab vacay I took, look at this fab outfit I'm wearing, look at this fab avocado toast that I ate," but since this is my personal blog, I want to be as real as possible.
Ever since the election (also my birthday, FML), I've been down and can't seem to pick myself back up. Winters are always tough for me emotionally, especially in NYC for some reason, but all the political turmoil and tragic headlines, along with having to stare at a computer all day for work, has really taken a toll.
I used to be the girl who would over-dress for work and use any excuse to wear heels, and I've suddenly become someone who wears sweatpants to the office and constantly chooses the comfiest shoes possible.
It might have to do with the fact that my office doesn't have a real dress code or the fact that athleisure has taken a new level of trendy, but I think part of it has to do with my mood.
Anyways, you've probably had enough of my public venting session, so here's an outfit where I wear something comfy on top, but slightly comfy on the bottom. Because really, who needs pants in times like these?
Also, wanted to point out the designers of this sweatshirt, Urban Sophistication. The brand is by two Israeli teens that I interviewed for Galore. Their stuff is really cool and it's always great to see young adults doing big things.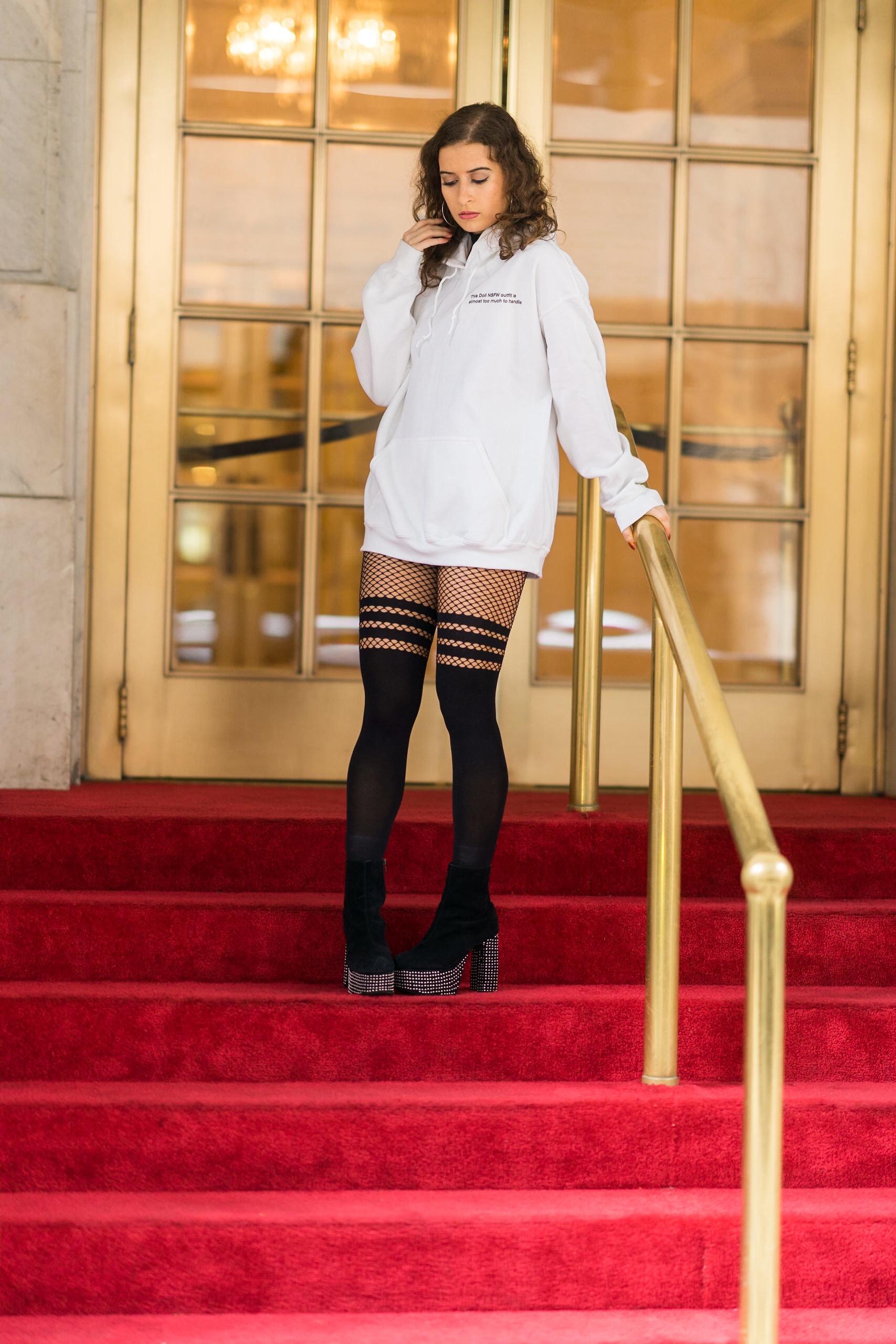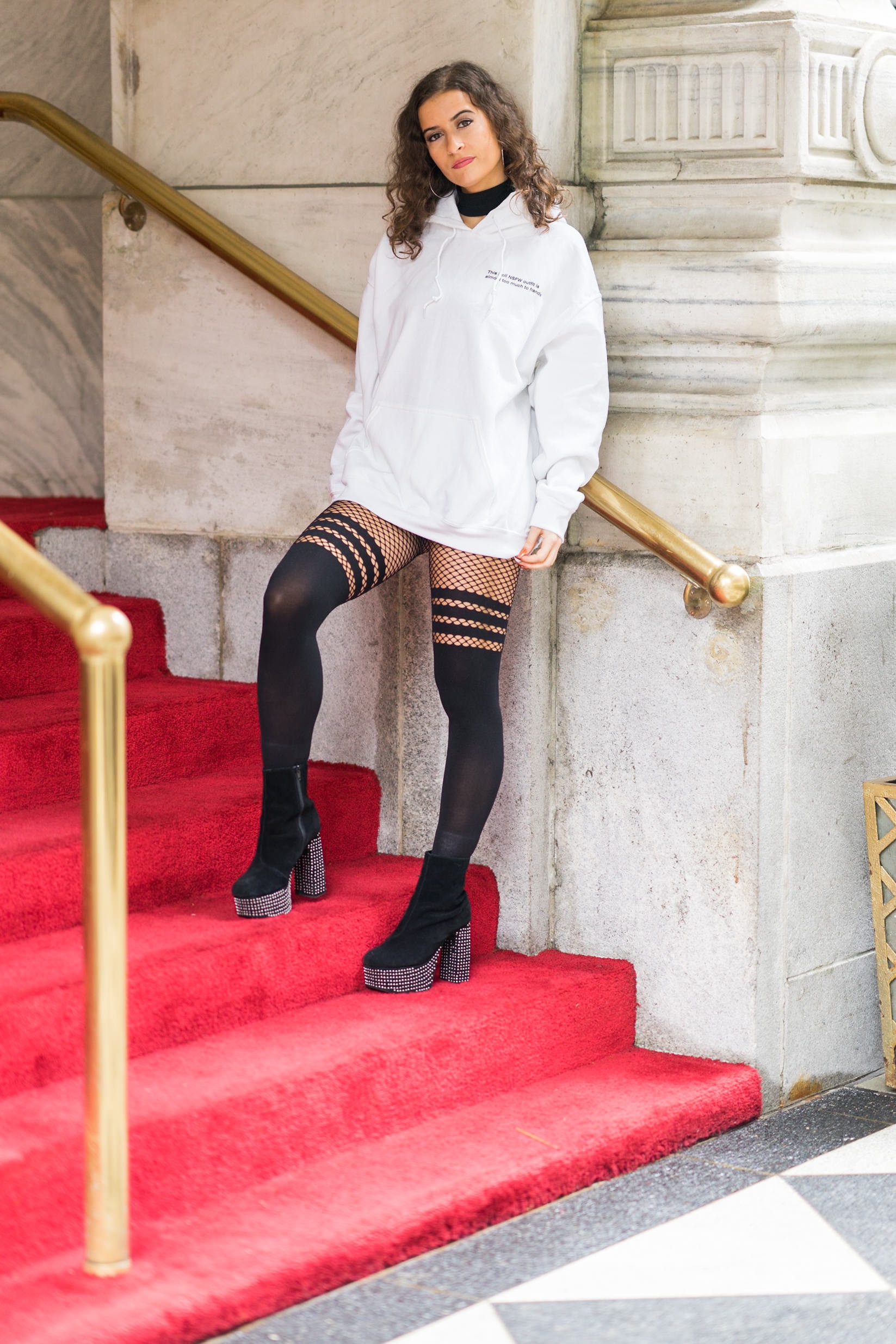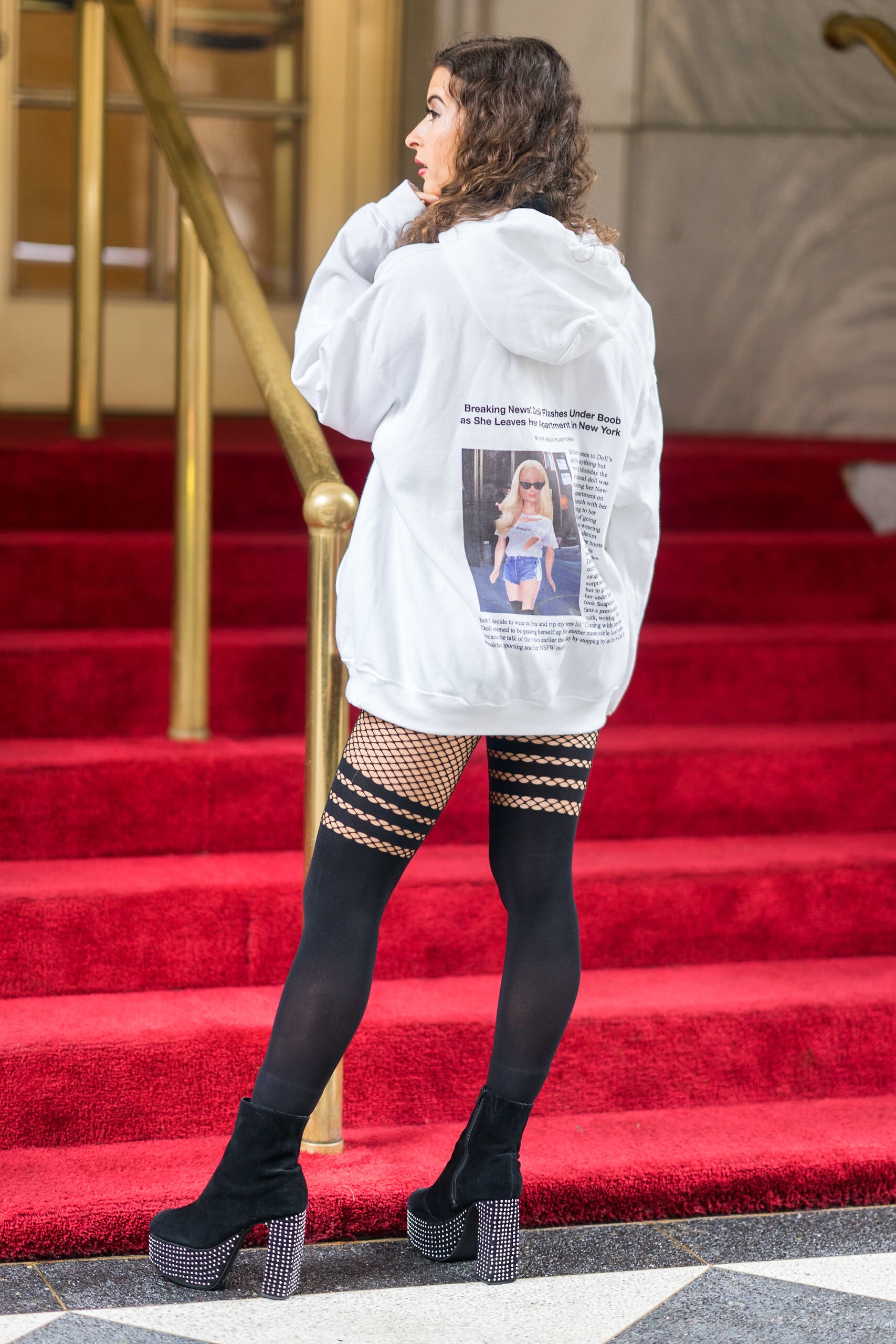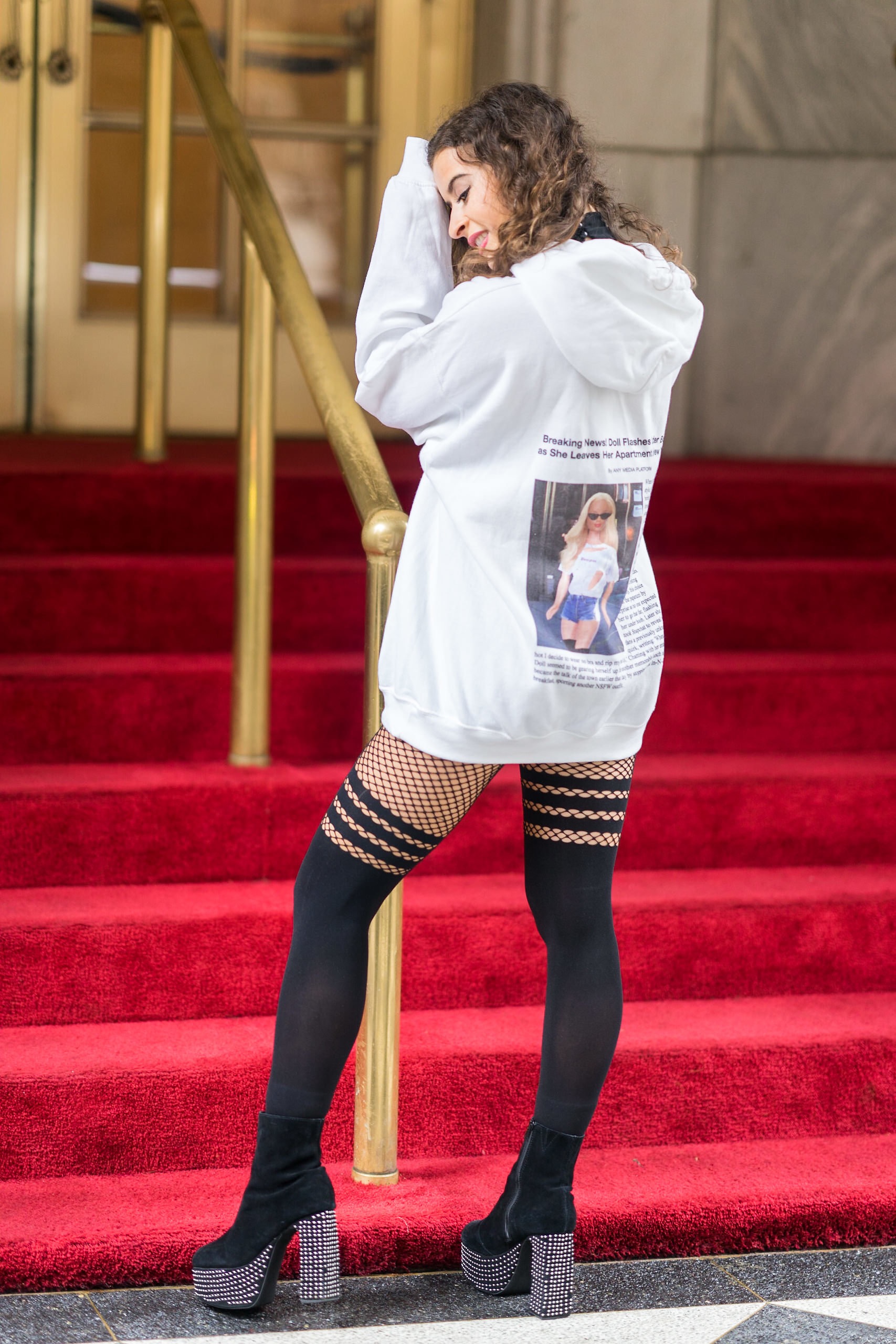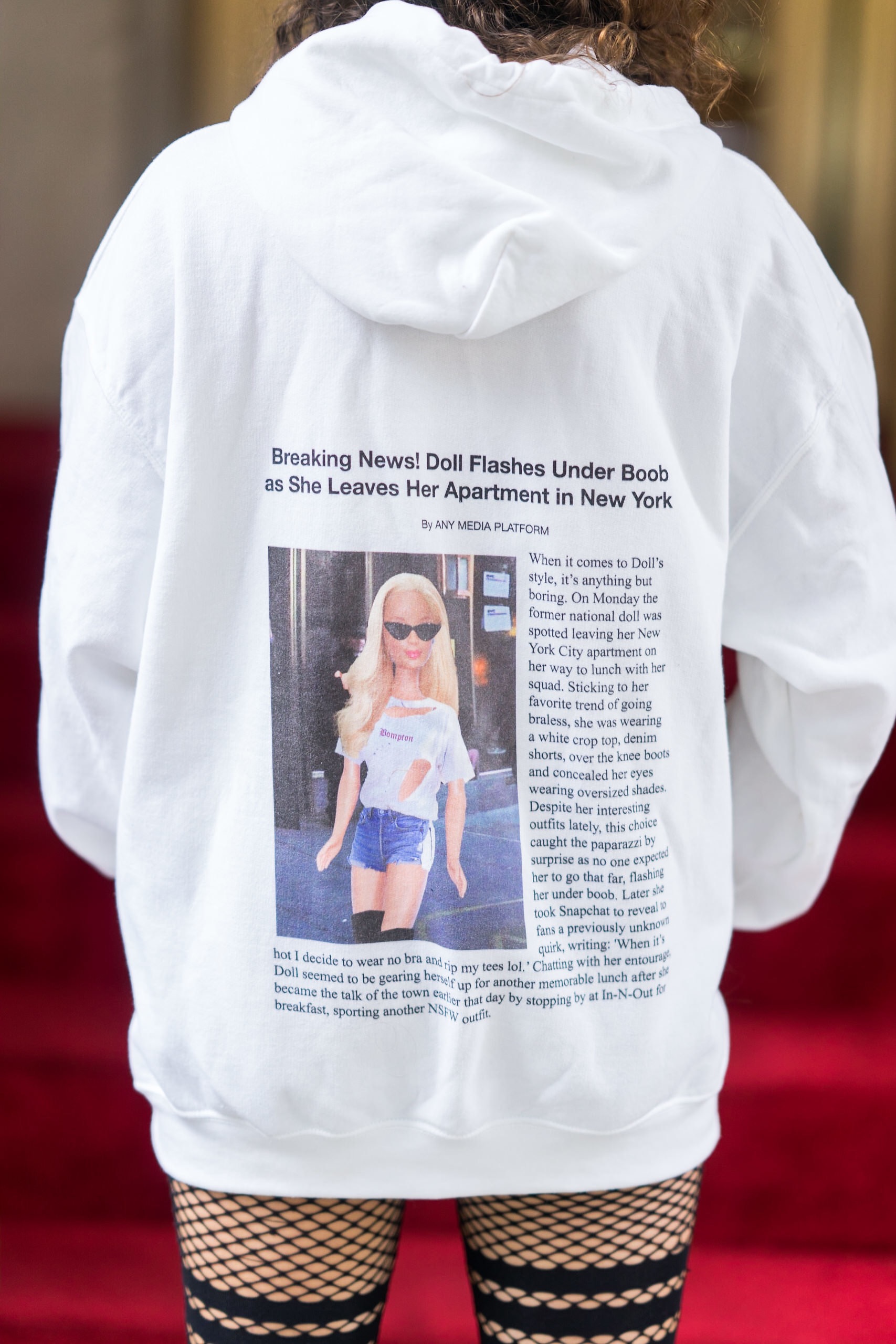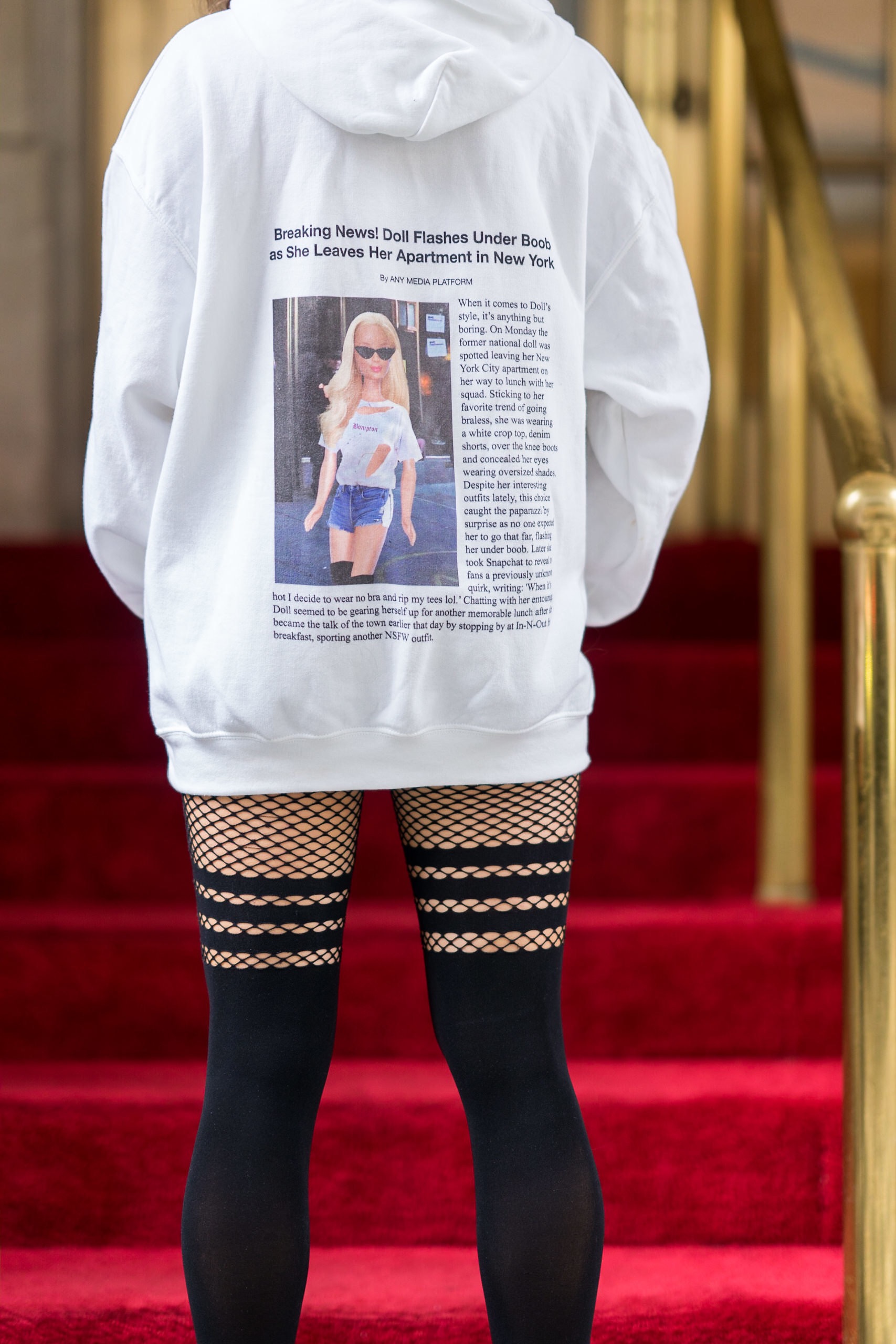 Sweatshirt: Urban Sophistication
Choker: Boohoo
Tights: Yandy
Boots: Jeffrey Campbell (similar here)
Photos by Zachary Zirlin