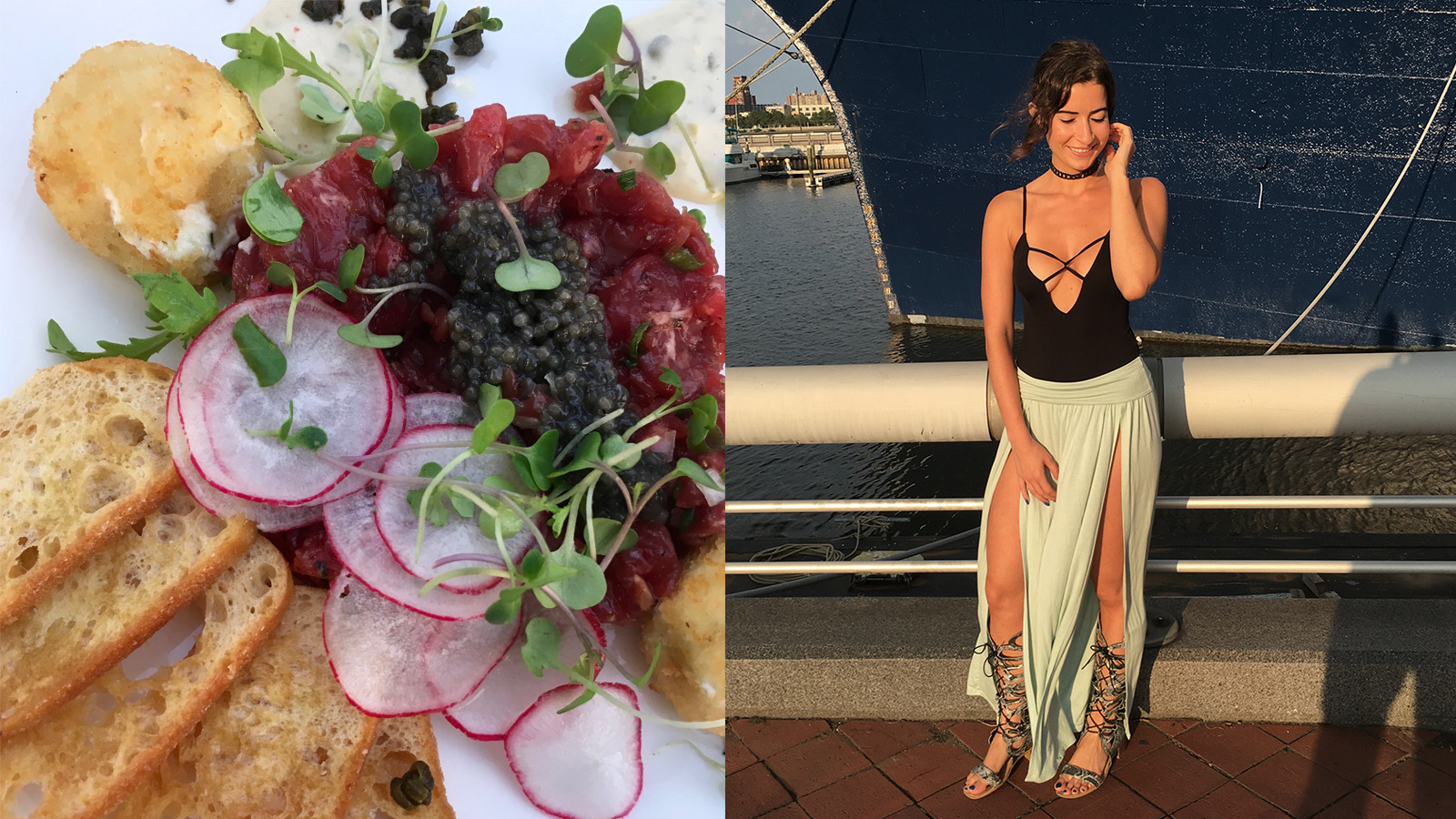 I've always dressed in a way that attracts attention, whether that attention be because I'm showing skin or because I'm dressing very differently than all the "normal" people around me. But in all the times I've gone out to dinner in a low-cut top or a cleavage bearing dress, I've never caught a waiter checking me out the way I did at Moshulu last night.
I wore this bodysuit from Nastygal (buy it here), a double-slitted maxi skirt from Tobi (same style in different colors here), and gladiator sandals from Nordstrom Rack. I was showing a lot of skin, and I'm not complaining about the waiter's reaction or anything–it was just funny and I thought I'd share.
BTW– both of these items make it so easy to have a wardrobe malfunction in! The bodysuit made me actually pay attention to my posture for once so that the fabric didn't gape open and show my nipples to innocent bystanders. Likewise, wearing this very flowy and open skirt on a windy day would ensure that your ass got flashed to everybody. The bodysuit is a thong, so I had to make sure I was holding down the skirt whenever I felt a breeze.
Upon walking up to the table to greet us, our waiter's eyes got wide as he stared at my chest and he exclaimed, "that's a nice….beer!" He suddenly started gesturing at my Yard's Love Stout that I had gotten at the bar while waiting for the table. Besides that incident, he was an awesome waiter, he asked my boyfriend and I if we were celebrating anything and brought us complimentary champagne and dessert with the words "Happy Anniversary" written in chocolate sauce, maybe he was extra nice to make up for his accidental creepiness?
I thought the whole checking out my boobs incident was funny, my boyfriend maybe didn't so much. Don't worry, he still tipped him 20%.
Anyways…the food at Moshulu was wonderful and so was the service (besides the boob incident). I feel like there are so many places with good food in Philadelphia that the service can really distinguish one place from another. Moshulu was probably the second best service I'd had in Philadelphia, second only to Lacroix, which is my all-time fave place in Philly.
I chose the Oak Vineyards White Zinfandel because my boyfriend loves sweet rosés (v manly of him), it also didn't hurt that it was the chepeast wine on the menu. When we got the wine, I realized why it was the cheapest because it tasted so sweet and sugary, reminded me of a Barefoot Moscato. Regardless, it still got me drunk which is the important thing.
We started off with the House Made Charcuterie and Artisan Cheese and it was awesome. The only thing left on the plate afterwards was some mustard. I really liked that they served thin crostini so that you didn't lose any cheese or meat flavors to big hunks of bread. My personal favorite was the brie+fig+jam combo, it was fucking amazing.
My boyfriend went for the 14 OZ. Creek Stone 28 Day Dry Aged NY Strip Steak, and I went for two appetizers as my entree because I hate making decisions and I love tasting as many things as possible. I got the Prime Beef Steak Tartare and the California Shrimp Crunch Roll. We also got a side of Crab Mac + Cheese, which made me wonder why more restaurants don't do crab in their mac rather than lobster? Because it was amazing.
Beef tartare can be a hit or a miss, and this was absolutely a hit. The beef was super flavorful and the caviar on top added even more. I would've potentially liked thicker bread to balance out the powerful flavors, but the crostini was awesome too. As for the goat cheese croquettes…let's just say I never met a fried cheese that I didn't like.
Compared to everything else we had, I think the sushi was surprisingly the least exciting. The kani was overpowering and you couldn't really make out the mango and avocado flavors. That being said, it's not like I didn't eat it anyways.
Like I said previously, the crab mac and cheese was really on another level. It wasn't overbearingly creamy, the truffle bread crumbs added a perfect crunch, and there was even a little spice (possibly from the crab?). Although we ended up taking some stuff home since we were stuffed, we made sure to finish all of this.
Hey, even though the waiter checked out my boobs way too obviously, he did make up for it with some complimentary champagne and this cute little sorbet plate. After all, isn't that what showing cleavage is for, free drinks? JK…kinda?
Anyways, the only thing better than the food at Moshulu was the amazing natural lighting we got from sitting outside, because all these pics were taken on my Iphone. I definitely recommend it next time you're in Philly, if not for the crab mac then for the Instagram food porn potential.